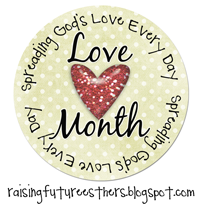 I know that my posts so far for this Love Month have been about my family.
But again, we still have a lot of snow on the ground and really cold.
But I am totally enjoying all the fun we are having and all the ways I am loving on my family and the way they are loving on me.

Sir Cuteness is definitely loving the snow.
He loved sticking the snow on the neighbor's fence.
He loved making faces on it.....
It was so funny.
When I came out with the camera he moved to the side.
Me and Mr. Winslow laughed so hard at him.
I wanted a picture of him, but he wanted me to take it of his "face".
So cute!!

Be still my heart.....
I love these two so!!


See he moved out of the way for the picture.
Cracks.me.up.
And then when we came in to eat.....
He fell asleep in his high chair.
Oh.my.stars. the cuteness!!
Then Sunday afternoon PaPa and Daddy went out with Sir Cuteness to make a snowman.
How cute is this little guy?
Yep, Snowman's not to bad either ~~ heehee
Sir Cuteness and Daddy!!
This picture is SO cute!! Looks like he's telling him "it'll be alright".
Super Bowl Sunday was SO much fun!!
I cooked little mini-brownies.
Dak found the recipe on my Tailgaiting app I downloaded
for Super Bowl recipes.
These babies were delish!! and homemade!!!

And this would be part of the reason I am vegetarian.....
I DON'T LIKE RAW MEAT!!
EEK!!!
I cook it for the fam, but I don't partake......
The wings..... oh and Dak's fingers =)


I.love.you.
My little chef.....
I.love.him.
And me.....
This is the dipping process....
And the cooking process....
And the result?
Stinky.....yummy wings (so they told me =)
Dak did most of the wing work while I went and picked up pizza.
We ate well on SB Sunday!!
But most of all we sat in the living room (all of us) and yelled at the TV.
Dak and I for the Packs ~~ WOO-HOO ~~ just sayin'
And
My sweet Mr. Winslow and Chase for the Steelers ~~ NOT woo-hoo ~~ just sayin'
It was SO much fun!! I love family time and it is not often enough for me.
Dak is rarely in the living room with us.
He's either in his room or at a friends, but lately he is spending more time mixing with the fam.
Bliss.
He also has been asking some interesting questions lately.
I think this whole growing up and graduating is starting to make him really think.
I pray I answer these questions correctly.
I.love.him.
Have a Blessed day,