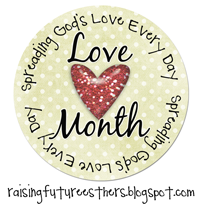 Okay, so God has been working on me hard the last two weeks. He will NOT let me get away with things at all and for that I am SO happy!!
That has not always been the case. There have been times in my walk where I have not been so diligent to pay attention to that "still small voice" in my life. Dumb girl.
Now things are so different. I LONG for that Still Small Voice in my life. I listen. I obey. I love deeper because of it. Beautiful.
So this week God was speaking through me in conviction. There was something that I did around CHRISTmas time that I didn't tell my sweet man about because it involved him. So I never told him, but it also involved money, and at the time, God spoke to me about it, but I thought, no I don't need to tell him. I felt bad.
Let me interject here, my reason for this post is to let you know that I am a REAL person. I never want to put on a false perception here. I am a real girl, with real struggles, and a real heart that God works on. Beautiful.
So I hadn't thought about this for a few weeks and then this week Dick made mention of something money wise, and I was SO convicted. So last night, I told him. I broke down and cried. I was so broken over it. And he was so kind. He hugged me and told me I was silly and all was well. Have I mentioned how much I love him?
And then he told me about today......... He is taking me to lunch and then we are going to buy a blender. Now he's speaking my love language =)
I feel completely clean this morning. I had already asked for repentance, but I hadn't completed the process by confessing to my husband that I'd spent this money. I'm so glad that God will NOT let me get by with ANYTHING. (I feel like I need to tell you this was not a huge amount of money, but it was enough that I felt like I should have told him and the reason behind it.)
That is my prayer during this season of pruning, that I would be bare before Him and that He has a vessel totally usable for His glory!!

Psalm 51:10 (NIV)

10 Create in me a pure heart, O God,
and renew a steadfast spirit within me.

Thank you for listening and loving me just the way that I am.....a work in progress.