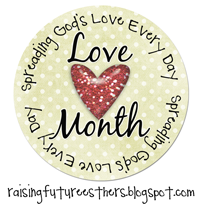 Sometimes raising a teenager is just HARD work. I wrestle with wanting to do EVERYTHING for him to make sure it gets done. BUT.... he is 18. And there MUST come a moment when they sink or swim.... sigh. We just CAN'T do EVERYTHING for our babies mama's, especially when they are 18. double sigh.
So what in the world am I talking about? Scholarships. It is time for him to get scholarship applications in and some of them require essays. I've tried to get him to do it while he has been off for snow days, but he worked on it for a little bit and didn't get anything really done. I wanted to sit on him and MAKE him do it, but the Holy Spirit just wouldn't let me. This child MUST grow up and it is make or break it time for him. Triple sigh.
I love him so and I could fill out all the applications and then just have him write the essays, but how is that loving him well? If I do it all, what kind of feeling of accomplishment will he really have from having done it himself? Not much. The best lessons I have learned in life have come from me either doing something for myself or me not getting something done. Yes, some of the best lessons I've learned in life have come the hard way. Sometimes the REALLY hard way.
My sweet man reminded me last night of that and confirmed what the Holy Spirit had already been speaking to my heart. I am a well-Blessed woman....well-Blessed woman!!!!!
So having said all of this let me leave you with my dear Teenager whom I am TOTALLY smitten with. Even when we argue and fuss.......... I am still TOTALLY AND COMPLETELY SMITTEN with this sweet man boy (he will ALWAYS be my baby =)
OH RJ PLEASE TAKE NOTE OF THIS BEAUTIFUL SCARF!!! LOOK AT THIS BEAUTIFUL SCARF AROUND THIS GORGEOUS NECK!! THANK YOU AGAIN SO MUCH!! HE LOVES IT!!!!!

So mama's......my best advice on raising a teen is:
LOVE THEM WELL THE WHOLE ENTIRE TIME THEY ARE IN YOUR HOUSE
BECAUSE IT GOES SO VERY QUICKLY AND THEY WILL BE APPLYING FOR
SCHOLARSHIPS AND YOU WILL BE WANTING THINGS TO.....
S.....L....O....W.....D.....O.....W.....N.....

I have loved this child from the moment I found out I was pregnant. Through all the months of disappointment.....all the pills I had to take to ovulate (oversharing....sorry =) just so I could even get pregnant.....to finally after 62 hours of labor (yes you read that right) and almost losing him..........getting this precious boy into the world........I have loved him every.single.solitary.moment. And I love him still........
And how does he know? Well, I tell him ALL the time, but I also show him and I will be showing him by backing off and watching him fly. tear. double tear. I love him so!!!
Soar my baby boy........SOAR!!!


Proverbs 22:6 (NIV)


"Start children off on the way they should go,
and even when they are old they will not turn from it."
I love you all so ~~ have a beautiful day,