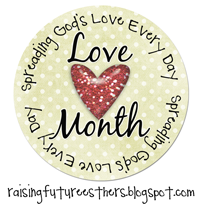 So here we are day 3 of "Love Month" and my Love List is starting to grow. I am loving this. It challenges me in so many ways, and I am loving being stretched.
Well as y'all know, we had a Blizzard this week (I don't know why I keep capitalizing B-lizzard, but apparently I am, and maybe it is because it was a monumental event....we have snow in MO, but not Blizzards, so I guess that deems it worth of a capital B.... anyway.... =) Because of this Blizzard my sweet Mr. Winslow was off Tuesday and Wednesday. On Tuesday, we walked to our neighbors across the street because they are out of town and worried about their home in this weather, so we took care of some home warming for them =) and then headed back across the street to our own cozy little cottage, but can I just tell you, THE WIND WAS C-R-A-Z-Y!!!!! The rest of the day we stayed in and Mr. Winslow went to cleaning. One of his favorite things. It's his love language =) So he spent the day getting Sir Cuteness's toy room bomb-diggity and Sir Cuteness could not be happier about it. And he also cleaned our closet..... I love this man so!!
Then yesterday, my sweet Mr. Winslow took to shoveling. My stepson C went out and helped him and together they shoveled our drive, our neighbor's across the street and our neighbor's next to us. They were out there for hours. There were HUGE snow drifts, so it took a long time. Bless their hearts. But they stayed with it and got it done. They were really tired.
Well, yesterday afternoon, when Mr. Winslow went out to drive the roads, our next door neighbor came over with the cutest little basket of the most delicious peanut butter cookies (my love language =) and chocolate cookies you have ever tasted. YUMMY!!! It was love in return. What a sweet gesture.
Love = Love that is just the way it works.....at least most of the time. Maybe not in the way or even the season you expect, but I believe if you give love it is returned to you by your Heavenly Father in so many ways. Plant the seed and you will reap the beautiful benefits in so many ways. He is faithful.