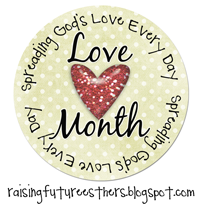 So several years ago my husband and I used to work together every day. He was the manager of a welding shop for a bigger operation out of GA, and I was the office manager. We have been told MANY times that a husband and a wife should and couldn't work together. It worked for us. The way I feel about my husband was just enhanced because of that 2 years. Well when that season came to a close, I became a SAHM and he went to work for a small company where he works now.
It was an adjustment for us, but we knew it was the right decision. When that happened I wanted a way to stay close and connected to him, since we wouldn't be seeing each other every day or eating lunch together every day, so I thought and thought about this and what better way to stay connected than through the Word of God.
So I started taking just regular note cards and writing a "verse of the day" on them for him, and for a long time it was great, until I got complacent and it became work. When that happened I started recycling old verses I'd written so I wouldn't have to take the time to write a new one. Until I just stopped altogether. It.was.pathetic. (Just keeping it real.)
Well, through this "Love is a Verb" series, God has really been dealing with my heart over some things; over how I love. And do I really love well?
So day before yesterday, He brought to my remembrance these verse cards. So I didn't over think it (like I generally do =) I just did. I am happy to report that there was such a joy in my heart yesterday when I wrote another card and put in his lunch box. I really can't even explain it. It's just exactly what God wanted me to do. I am so thankful. I'm so glad that the Lord reminded me of this and that He has fueled a new desire in me to continue this.
What a simple gesture..... it isn't even a pretty note card ..... just a note card ..... in my hand writing ..... His Word-s..... Beautiful.
I love you Father!! Thank you for the gift of teaching me to love well in the simple things. Guide my heart as I seek to serve You better and seek to be the woman You created me to be. Praise Your Name!!! I ask this in Jesus' Name, Amen