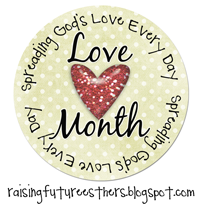 So here we are, day 2 of Love month and I don't know if it is because we really did get a Blizzard or what, but this is not going as planned, but you know what?.... it doesn't matter. I think that God does that on purpose, because really it's His plan that matters, right?....Right.
Well, what does one do if stuck in the house because of a Blizzard and can't get out? You love well, right where you are.
So yesterday, Dak and I got into a little skiff because of his room. Now that's starting love month off right? =) Just keeping it real. Well, his idea of a clean room and my idea are two TOTALLY different things. He thinks if I can get in his room without having to step over anything, or if I can kick it out of the way and not fall, well it's clean enough. Well my idea would be a little different than that. ahem..... I don't expect it to be spotless, because after all he is 18 and a boy, but I do want it clean enough to vacuum and dust etc.
So he got up in a huff (like at 11:30 am ~~ the audacity of his mother to wake him up at 11:30 AM, what was I thinking? =) Again keeping it real =)
In the middle of his cleaning and being mad at me, I sent Sir Cuteness into his room with a Cookies and Cream little Heart. (Dak's favorite candy bar is Hershey's Cookies and Cream. Well I found some at Walgreens for Valentines Day and I thought, what a perfect way to love on my boys this month with little hearts. So yep, I was softening him up a little =)
Well he did work on his room for a long time, and then he came out in a little sheepish voice and asked, "Mom, can we play cards?" And this my friends, is where loving well comes in. I said, "Sure." and we had a wonderful time playing cards and eating, even though his room still wasn't done. It was so okay to take a break and have a little fun.
Well, when we were done, Dak asked, "Can we make Coffee Cake?" and again, loving well kicked in, and we had a wonderful time, Dak, Sir Cuteness and I making a mess and making a delicious Cinnamon Coffee Cake.
So you see, loving well doesn't have to be big and spectaular. It can be as simple as a Cookies and Cream Heart, a card game, and a Cinnamon Coffee Cake, even in a Blizzard =)
Have a Beautiful Day,