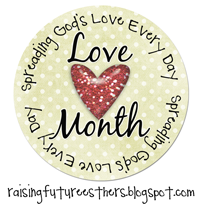 HAPPY VALENTINE'S DAY!!! Truth be told, my man and I generally don't do a lot for V-Day. But this year has been a little different. He took me to lunch on Saturday (and bought a new blender ~~ yay!!) and then yesterday he ran at the Battlefield and then called me when he was almost back to where I sat (at a picnic table in the snowy sunshine doing my Beth Moore study....pure bliss) and then had me meet him so I could walk a little. SO GREAT!!
And then this morning......
When he kissed me goodbye he whispered in my ear, "Happy Valentine's Day!! I Love You!!!" He made me feel SO special. I know it is such a little thing, but isn't love in the details?
I also get My Mr. Winslow a card for V-Day, or make him one, and this year I decided to make it. I'm not into spending $5.00 on a card, and since I'm a scrapbooker I always have LOTS of supplies lying around, and I have fun projects going this year, so right now I have extra fun things in the stash, so yep, a homemade card it shall be....
Patient
.....Help me Lord to want things in YOUR time, and not my own.....
Kind
.....Father, may my kindness show from the Holy Spirit's residence in my heart.....
Does NOT Envy
.....Jesus, help me to be satisfied with what I have and not want someone else's Blessing.....
It Does NOT Boast
.....May I only boast in the Cross of Christ.....
It is NOT Proud
....Oh Father, help me on this one for sure......NO PRIDE!!!
It Does NOT Dishonor Others
.....Let me be a person who
loves
others.......
It is NOT Self-Seeking
......Let me Seek
YOUR
Kingdom FIRST and
YOUR
Righteousness.....
It is NOT Easily Angered
.....Help me keep a cool head about me.....
It Keeps NO Record of Wrong
......Father, NO checklists of what others have done to me.....
Love
Does Not Delight in Evil
.....Never let me delight in evil Father, please always convict my heart........... Keep that check in my Spirit
ALWAYS
.....
But Rejoices in the Truth
......Let it be LORD, that I will
ALWAYS
be a girl that
REJOICES
in
YOUR TRUTH!!!
.....
It ALWAYS Protects.....ALWAYS Trusts.....ALWAYS Hopes..... & ALWAYS Perseveres.....

Father, help me to
ALWAYS IN

LOVE
Protect the ones dearest to me and the ones dearest to
YOU
Father (You want
ALL
to come to Salvation!!), Please may I
ALWAYS
Trust, because that is what
LOVE
does..... May I
ALWAYS
Hope in
YOU,
Jesus, and Oh Lord Jesus, Help me to
ALWAYS
Persevere,
even
especially when it is hard, and help me to do so with
LOVE
and not complaint.....
LOVE

NEVER FAILS

.....
And that my friends, is real love, TRUE
LOVE
!!!
LOVE
NEVER FAILS
!!
1 John 4:10 (NIV)
" This is love: not that we loved God, but that he loved us and sent his Son as an atoning sacrifice for our sins."