The ocean is dry.....
There's no stars in the sky.....
And the Sparrow can't fly.....
If that isn't Love.....
Then Heavens a myth.....
There's no feeling like this.....
If that isn't Love.
So y'all remember that old song? I used to sing that quite a bit with my mama at the piano. Sweet memories.
It is time for SSMT #4, and I must tell you, this is where the rubber meets the road for me.
The Father LOVINGLY gave me this verse last week, remember
confession is good for the soul.
As the Holy Spirit was convicting my heart to do the right thing, this verse was in my study of The Tabernacle. I had already written SSMT off to the side even before I knew what last week would hold for me confession wise. Isn't God just amazing?!! He knew I would need this verse last week, and He knew it would be my SSMT this time. He is so cool.
So without further ado:
2 Corinthians 7:10 "Godly sorrow brings repentance that leads to salvation and leaves no regret, but worldly sorrow brings death."
Off to the side in my Bible, I have these words written (from a long time ago): "Godly sorrow changes us. (Georgia)" G is my dear friend and at one point she had written this verse in a card for me I'm sure, because she used to send me cards quite frequently, and she'd write a verse in it that she felt was for me at the time, and then I would mark the verse and write her name and words of wisdom off to the side. Notes like this have Blessed me immensely over the years.
That "leaves no regret" was the part of this verse that really stuck out to me last week. God was telling me that Godly sorrow will always bring about repentance that leaves you with NO regret. My heart was so longing for that, and He is faithful. After I repented I felt so clean. Amazing!!
So this verse is near and dear to me of a great lesson learned. Praise You Jesus!!!
So what are your verses? If you aren't memorizing this year, it is never too late to start. You can go here and read all about it and join us.
I Love how the LORD loves on me. He started this post by putting that great old song on my heart. And has reminded me at the end of the post that He loves completely. I am so thankful!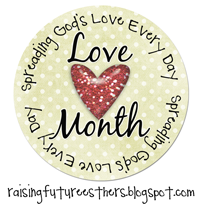 Have a Super Blessed day,