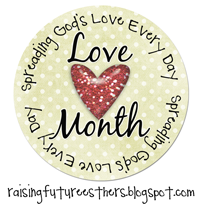 Well, it is the end of February. Can you even believe it?
I have so enjoyed my "Love is a Verb" posts this month that Deidre hosted. It has been so great to be challenged in this way.
Last week, I didn't keep up my posts so well last week, you see it is getting to be the busy season for my stepson's business, and I answer the phones for him and make appointments, and I get to watch Sir Cuteness full time. It is so fun, but it certainly keeps me busy.
But I wanted to finish strong. So today I am showing you some things I've been working on this month. I love to Scrapbook, but I've had a hard time fitting it into my already busy life, but it is something that is very relaxing to me, so I've started doing it a lot more lately and wanted to share with you some of the things I've been doing, and how I've been loving on others through it.
Let me start by saying..... I am NOT a photography like RJ and so many of you fantastic photographers out there. Nope, I snap and shoot. I know nothing about lighting or adjusting or things like that....so please bear with my lack of picture taking abilities =)
My dad's birthday is tomorrow. He will be 72. I don't see him much, but wanted to send him a little something to let him know that he is thought of and loved.

I used an epoxy sticker in the actual content of the card and thought it turned out so cute. And bonus....got a whole package of epoxy stickers at the $1 store.
And then this card I made for my dear friend T who lives in MN.
I thought it turned out really cute. (Sorry for the yellow lighting).
More flowers from the $1 store.
And then over the weekend, I came across some youtube videos on Scrapbooking.
Who knew?!! So I watched a tutorial on how to make these adorable paper flowers.
They turned out SO cute!! I will be making a lot of these.
This was the first one I tried. It looks blue in this photo, but it is really green with some patterened paper in the outer middle section. Very cute!!
This flowers are made totally by hand.
You start with squares of paper in 3 different sizes, and cut flowers out, etc.
I'll post the link at the end of this post.
So cute!!
This one is a smaller version.
I know you can't tell in the picture, but it is smaller.
It turned out so cute too!!
This one looks a little funky, but in person it is so sweet.
These pictures really don't tell the whole story here.
I have really LOVED this project!!
And one more picture of the orange one.
Love it!!
I'm working on some very special CHRISTmas projects (yes I know it's February),
And these will probably be a part of that.
So cool!!
It is a labor of love, I assure you.
So this is a monogramed card I made for my friend T in MN and will be sending
it to her this week.
I love the way it turned out.
I bought a book of card sketches and this is my interpretation of one of the sketches.
I'm loving this book!!!
Here is the inside of the card.
So I have been working on some cards and Scrapbook projects and hanging out with Sir Cuteness.
Here is the link to the flower project:
here
I have a doctor's appt today with my Orthopod. We'll see what he says about this bone pain I am having in my knee. Hopefully it will subside soon, but I press on toward the mark of the high calling in Christ Jesus. I press on!!! I'm NOT going to let it get me down.
I will also be participating in "Haven" week over at The Homespun Heart. I'm looking forward to that. I'll be posting more about that tomorrow.
Also tomorrow is our new SSMT verse. So here is my verse for this past month:
"Godly sorrow brings repentance that leads to salvation and leaves no regret, but wordly sorrow brings death." II Corinthians 7:10
Oh one more thing: Sir Cuteness has a play phone of one of his daddy's old phones, and he just told me he was checking his e-mail. Oh my, need I remind you he's
2.
Hahaha!!!
Have a Blessed day,