I know, 2 posts in one day. Have I ever done that? So please scroll on down to see my 3rd verse for SSMT after this one.
Now onto this post =)
So today is the start of "Love Month" that the very sweet
Deidre
is hosting.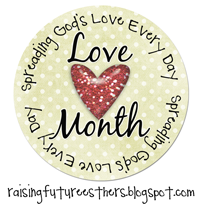 This whole month every day we are to post about love; either how we are showing love to our families, how we show love to others, how love is shown to us etc. I'm so excited!!! I'm not very good to post everyday, but since Deidre mentioned it, God has been putting ideas into my heart for this month. I'm so looking forward to what He will show me over this month.
So today, I'd like to post about love from God's perspective.
John 13:34: "A new command I give you: Love one another. As I have loved you, so you must love one another."
John 14:15: "If you love Me, you will obey what I command."
John 15:12-13: "My command is this: Love each other as I have loved you. Greater love has no one than this, that he lay down his life for his friends."
I love these verses on love, and do you notice that love is truly a verb? It is an action word. I love it that Deidre is calling this "Love is a Verb" I love that and it is absolutely true.
So God has been speaking to me about how I can show others love over this month. I have not always been so good at thinking outside of my comfort zone. Yep that comfort zone thing can really be a problem for us as Christians. Well I believe that God really doesn't even want us to have a comfort zone at all. He is calling me to trust Him in all things and if He wants me to do something uncomfortable for me, then that means I get to grow more in Him. Beautiful.
So go ahead and join us for this month of love. Ask God how He might use you over this month to Bless others with His love. He will show you sweet one.
Have a beautiful day,