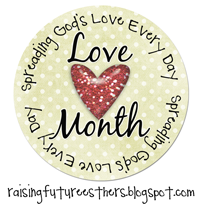 So I must tell you that lately I have struggled with pain. These knee is kickin' my booty, to say the least. I guess I am just tired of hurting every.single.day.
So this morning, me and my bad mood, got up. And I CHOSE joy!!! Please hear me clearly on this ~~ I CHOSE JOY!!!!! ~~ this morning it was a choice. I woke up and the Lord put this verse on my heart: "This is the day the LORD has made, I will rejoice and be glad in it!!" Yep, He was asking me to choose joy in my pain.
Well, as you can imagine, I didn't sleep good, so my mood was VERY stinky, but God was very near me today. As I got in my car to go pick up Sir Cuteness, I put my Playlist on entitled "Wonderful" and I pushed "Shuffle" and one song after another was a Praise song. God was intent on me CHOOSING joy. So I SANG AND SANG loud and raised my hand and I'm sure that if you passed the silver car with the lady raising her hands and singing at the top of her lungs, I wasn't waving to you; sorry. Nope I was praising my Jesus and CHOOSING JOY!!
So what in the world brought all this on? Well, this weekend has been a difficult one for me and my Dak. I don't like hard weekends, but I know they are necessary and inevitable when raising a teen.
This child of mine has the sweetest heart, but he is given to "stinkin' thinkin' " A-LOT!! It drives.me.crazy. He knows better....but his mind will go crazy on him and he will get caught up in thinking ALL the wrong things. So as this was happening yesterday, I stopped him and told him that what we think is SO important and that "stinkin' thinkin' " gets us in SO much UNECESSARY trouble. He agreed. It was a break through for sure.
As I was explaining to him how it works with our thinking and how it becomes actions, I was reminded of days past, where I would have to explain things on much simpler terms, and now that my boy is transitioning into a man ~~ tear. ~~ I can speak plainly to him, and he gets it, because I KNOW the LORD is at work in his heart.
So this morning when I got up after a difficult night of sleep, and chose joy, God started working on my heart about my own "stinkin' thinkin' ". What we think is vitally important to how we act. So I picked my little bad mood self up and got about my day and even delivered some cinnamon rolls to someone I knew would need a nice, sugary breakfast =)
And then I stopped and got Dak a Frapp on the way home, and again was SO glad I did. He was very appreciative. And I was choosing joy!!!!!
So, CHOOSE JOY!!!!!!!!!
***********************************
Bible Study ladies ~~ I will be putting the questions up today and sending you an e-mail with a link. I am so looking forward to Bible Study tomorrow evening.
***********************************
Have a Blessed day,