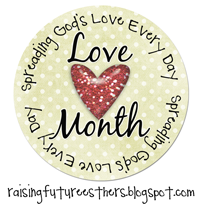 Okay let me start by saying that it is 5:19 pm Friday here in MO and at 5:30 I am to be at the High School because our Project Grad Parents (all 5 of us) are suppose to be selling pizza slices at Homecoming ~~ HOMECOMING ~~ Did I mention this was HOMECOMING?!!!!
I would love to be able to tell you all the fun I had today complete with a picture of where G took me to today.....but as I've said ~~ it is ~~ HOMECOMING ~~ and I DO NOT have the time!!! Other than to tell you it was so fun and nice to get out.
Well, after our outing (of which I will blog about ummmm hopefully tomorrow,) we went to lunch and then Aldi's and then Wal-Mart. While a Wal-Mart I noticed a woman eyeing me. I think she even said "hi" at one point like she knew me. I did NOT know her, of this I was certain. Well, we moved on with our grocery shopping lives until we were standing in the laundry detergent aisle, because girlfriend was out, and this lady, whom I have never even seen before, comes up and asks if she could pray for me. IN THE MIDDLE OF THE WAL-MART LAUNDRY DETERGENT AILSE!!! Please let me say here that this woman must have been paying attention, because I had left my cane in the truck, as often I will do, because I can hang onto the cart and the cane is just an added distraction. So she had to have been watching me walk.
She commented about G's shirt which was a FCA (Fellowship of Christian Athlete's) bright pink shirt with black lettering and then said that she believes in the healing power of Jesus Christ and had seen that I was limping and wanted to know what had happened. So I told her I had a TKA in October, and so right there in the laundry ailse at Wal-Mart this very nice lady prayed for me. It wasn't loud and intruisive, it was beautiful and insightful. She didn't pray for me to have more faith, or for God to show me what I needed for healing, she just cried out to our Ever-Present Help in Time of Need. It was so beautiful. I hugged her. Her name was Robin, and we proceeded to go about our business.
Well, when we were checking out, there was Robin, leaving as we were, and she came up to me and said that she didn't just pray for healing, but that God would give me NEW KNEES!!! Do you know how sweet that sounded to me. I mean I'm pretty much figuring that the new knees will have to wait to the other side of heaven, but this woman has some AMAZING faith. So I told her that this latest surgery was actually my 7th and my first surgery was at age 7, to which she replied: "Well, you are ready for some new knees then!!" Amen my new friend Robin.
I can't tell you the boost this gave me, and I am so thankful that God meant for our paths to cross today.
Love in action ~~ Love being bold ~~ right there in Wal-Mart!!!
Well, I can't even proof-read this, because it is 5:30 and I need to get myself over to HOMECOMING!!! Did I mention that it is HOMECOMING TONIGHT ~~ MY SENIOR'S LAST HOMECOMING AS A HIGH SCHOOL STUDENT?~~ TEAR. (yes I meant to put that in ALL CAPS!!)
Have a Blessed evening,