I love fall!!
I mean LOVE LOVE LOVE FALL!!!
My dear friend Arielle's family owns a farm.
Like a real life produce farm.
They don't raise cattle or other animals,
they grow food.
It is a tough business to be in,
but they do it with grace and beauty,
but it is a difficult business for sure,
and this season has been especially hard with the drought,
and then with it raining nearly every weekend
this fall season here,
it has been difficult on their Fall business,
but yesterday was a beautiful day here
and we headed out to
Campbell's Maze Daze.
Their farm is so beautiful,
and they work so hard to put this event on every year.
It is there money maker,
so I was so happy to see SO many people out there yesterday.
They are such generous people.
They hosted us yesterday,
gave us free admission,
let Sir Cuteness roam freely
and pick out a pumpkin,
and just took amazing care of us,
all because we love Miss Arielle so.
I'm telling ya,
A-M-A-Z-I-N-G PEOPLE!!
So sit back and enjoy this heavily loaded post of pictures =)
They are of course mixed up because I downloaded them from my phone,
but let's not sweat the small stuff!
*****
So here is PaPa and Sir Cuteness in the corn maze.
Because of the drought,
the corn just didn't grow very tall.
But it was still a wonderful maze and one of Sir Cuteness's
favorite parts.
Yes that is a coffin,
and no we didn't get in it.
Why a coffin in a kid's corn maze?
Well usually they have two mazes,
a kids maze
and a haunted maze for the evening brave ones =)
but this year,
they only had one maze,
so it did double duty =)
Sir Cuteness didn't mind.
Sir Cuteness jumped in the Dragon Jump.....
Rode the Barrel Train.....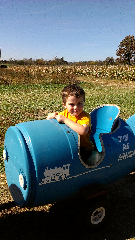 Had fun with daddy in the maze.....
Rode horses.....
(Another favorite part =)
Got us lost in the maze.....
This cracked me up,
the barrel train started and this mom that you see there had to go running after the train,
because her little girl (about 2-3) start crying and climbing out while it was moving.
Mama went running after it and walked beside it the whole way.
That's a good mommy right there =)
He went on a hayride with PaPa.....
Fed Luigi the pig.....
Another favorite part.....
yep we had LOTS of favorite parts =)
Side note: is this not the cutest pig you have ever seen?
He had the biggest belly.
There was corn everywhere of course,
and this pig just ate and ate and ate!
So funny.
So fat little piggy =)
I mean seriously!!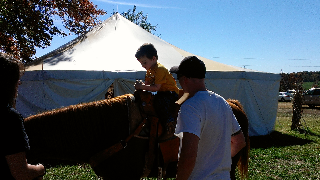 And fed rabbits.....
And posed with PaPa.....
Kinda =)
Painted a big ole pumpkin.....
Look at these precious fingers!!
Watched a magic show =)
He was really funny too.
Enjoyed the beautiful Ozarks.....
Played with Grandma in the big Corn Maze TV =)
I love this boy so!!!!!
And took corn from PaPa's hand to feed Luigi.
It was a beautiful day!!!
A Big Thank You goes out to
Campbell's Maze Daze
for making Sir Cutenesses entire Fall!!!
I hope you are getting out in the beautiful sunshine and enjoying the fall where you are!
Have a Blessed and Beautiful day ~~